NetConceal Anonyizer Review: Don't Let Internet Violate Your Major Right for Privacy.
NetConceal Anonymity Shield (version 4.9.055.2 at the time of reviewing), see http://www.netconceal.com, is a simple and nice to use "proxifier" software, which seamlessly "anonymizes" any kind of network software over automatically selected anononymous proxy (SOCKS or HTTP).
The following is a category-based analysis. Product feature set is heavily concentrated on network activity anonymization and nothing else redundant.
Feature Set
As already stated above, NetConceal Anonymity Shield's primary functionality is anonymization (also known as "proxification" or "SOCKSification") over automatically selected proxies. Product is concentrated on this, and does this as declared.
Basic usage is as follows (extract from online documentation - see http://www.netconceal.com/docs.html:
Start NetConceal Anonymity Shield.
Click Launch Web Browser button (or 'launch other' button and select your application executable).
After some small period of time (usually not longer than 1 minute), NetConceal Anonymity Shield asks you to confirm web browser startup. Click OK to confirm.
New web browser instance is started by NetConceal Anonymity Shield, and you can now use it to perform anonymous web surfing (screenshot).

Anonymization has the following set of features:
Automatic proxy selection.
Country filter.
SOCKS4/SOCKS5/HTTP support.
Manual proxy selection.
Automatic proxy selection is implemented as proxy list URL scanner. You just specify multiple URLs containing proxy lists, such as http://proxylistonline.com/index_http_1.html and it scans over them to find valid anonymous proxy with acceptable response time. A number of predefined proxy URLs comes out of the box, and they are enough for most purposes. Latest version includes lifetime subscription to vendor provided proxies, which are faster and more reliable than those included in general proxy lists.
Effectiveness
Product requires no specific configuration after installation. Basically, you just click one button and everything is done for you automatically (screenshot).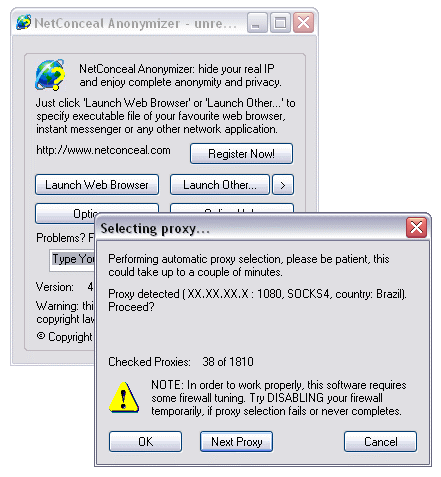 Finer grained control is available if need extended functionality, such as country-based proxy filtering and manual proxy server selection. The product lacks support of on-fly proxy switching, that is, when selected proxy dies for some reason, you have to restart anonymized application manually (and lose your working context - e.g. web sites navigated).
Something You Should Know.
1. Product notifies of new updates available, but prompts to download them manually.
2. Automatic proxy selection sometimes takes a while. In most cases it is no longer than half a minute, but could take a minute or two to complete.
3. Proxy quality is determined by availablity and speed, but sometimes it selects proxies which becomes dead within a couple of minutes, and application restart is required in this case (since no on-fly swithing is supported).

Ease of Use
As already stated above, product requires no specific configuration after installation. Anonymous web surfing is done via a couple of clicks - first to initiate proxy selection process and second to confirm selection. But this applies only if you use MS Internet Explorer, for other browsers (such as Firefox), you have to supply executable file path using Options. Anonymization of other network activity (such as instant messenger or e-mail client) requires manual selection of application executable file name on each run - you have to determine which exe to start (I encountered no problems with that). Product also supports shortcuts to frequently used applications.
Customization
Product has quite simple interface, but still provides wide range of customization capabilities (screenshot).

Help/Tech Support/Documentation
Regarding Tech Support - they offer e-mail support, and respond quite fast. I managed to get answers to all my questions within a day.
They also have public forum at http://www.netconceal.com/forum.
The only kind of documentation they offer is an HTML page of their web site. Many answers and good tips provided there, but not all, I had to contact them to clarify some things. They also offer FAQ.
License
A copy of NetConceal Anonymity Shield costs costs $24.95 (USD) for Standard version and $49.90 (USD) for Pro version, which offers faster proxies and premium support service. Quite inexpensive, I think, especially when it comes with good support.
Conclusion
NetConceal Anonymity Shield is a useful anonymization tool. Just a few clicks to obtain required functionality, quite intuitive, no time required to learn (for lazy people just like me :). The price is acceptable ($24.95).
Good luck!
---
Read related topics about anonymity and Internet privacy.